The Role of Genetics in Addiction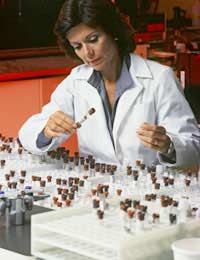 Genetics is the study of hereditary factors that are passed down from parents to their children. Genetics can be characteristics of a biological nature that have been determined by the parents.
The Role of Genetics in Addiction
The role of genetics in addiction can be determined by the characteristics that make a person more susceptible to becoming an addict. It is not determined by an individual gene more the inherited biology of the body's make up.
The brain may have more receptors of a certain type in some people more than others; these receptors will also appear to be more apparent in one of the parents as well. Another explanation seems to be that the gene responsible for the person needing to satisfy a 'pleasure', may be more dominant in some families than others, hence making the people more susceptible in wanting to find substances that satisfy these pleasures.
Most of the studies performed have been on the animal kingdom as it is very difficult to study this subject on human specimens. The results produced indicate that there are definite biological similarities between parents of addicts where the parents are addicts themselves and definite differences between non-addicts. These similarities showed that some may be more susceptible to become an addict or show greater symptoms of withdrawal making repeated use of substances more easily achieved, thus proving that genetics not only causes the individual to suffer greater cravings, but also make it harder for the person to quit. This means genetically determined addiction may be a more powerful addiction to suffer.
There is also evidence to suggest that certain cultures are more likely to develop addictions to certain substances due to the more prevalent nature of certain brain receptors and the way in which the body metabolises some substances.
These results seem to be much more prominent in those addicted to nicotine, alcohol or harmful substances as opposed to behavioural addictions; though this is difficult to measure in animals.
If addiction appears to 'run in the family' this may not always be due to biological and genetic factors, as social circumstances and learned behaviours when growing up are also largely influential. Many smokers who openly smoke in front of their children find that these children grow up to become smokers themselves purely because the behaviour is commonly accepted and permitted in life.
Many experts believe that genetics have a definite role in the development of addiction in certain people; in fact some specialists believe genetics can account for up to 50% of the incidence of addiction.
What Does This Mean?
Being able to determine whether an addiction has a genetic cause or if the biological make up of a person contributes to an addiction developing, allow experts to develop medications that can specifically target these areas. It also provides the professionals treating the addict to know which areas to work on and which areas time may be wasted on.Addiction is a complex disorder and research continues to provide us with increased knowledge that is used to help treat the problem and the cause.
You might also like...