The Relationship Between Addiction and Crime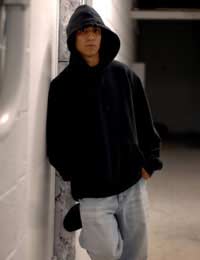 The relationship between addiction and crime is a complex one, and the cause of much anxiety for the authorities, and much head-scratching for sociologists.
Consider, for example, that there are some who commit crime in order to fund their addiction; then there are those who are addicted to crime itself. Do we punish addicts, or do we treat them? Are some addictions "worse" than others, meaning that some addicts require punishment, and others treatment? These are just a few of the problems faced by lawmakers, police and social scientists, when dealing with addiction.
Crime to Fund Addiction
The most widely publicised relationship between crime and addiction is that of the addict breaking the law in order to feed his or her habit. This relationship earns a lot of coverage both in the news and in fiction, because it concentrates on the spectre of the possessed junkie, doing anything he can to get his next fix. The fear factor that this notion holds for the public never seems to lose its potency. In reality, the people most likely to fall victim to hard drug-related crime are other addicts, who are less able to defend themselves, and more likely to possess drugs.
But this isn't to say that the problem is not real and immediate. In 2008, the charity Addaction estimated that hard drug-related crime has cost the UK as much as £100 billion over a ten year period. In addition to the health implications of addiction, it is estimated that this relationship is costing the British taxpayer more than £16 billion every year.
Part of the problem is down to the illegality of drugs. Supporters of drug legalisation say that if hard drugs were legalised, addicts wouldn't have to go to such extreme lengths to obtain drugs. Additionally, the cost of legalised drugs would be controlled, addicts would pay considerably less, and therefore need less money to fund their addictions. Furthermore, legalised drugs could be taxed, which would help pay for the treatment of addicts.
Opponents of drug legalisation say that it would simply result in thousands more addicts, all creating more of a burden on the state and the taxpayer.
Other Addiction-Related crime
Whilst the relationship between illegal drugs and crime is well known, the relationship between other addictions and crime is just as damaging.
Addictions to gambling, for example, can be enormously costly. People regularly get into debt to fund their gambling habit, and when they are unable to repay their debt, are in danger of turning to crime.
Alcohol and crime have a long-standing relationship. The confidence that drinking imbues in people can lead to sudden and extreme violence. Quite apart from the punch-ups that can occur in the street after closing time, it has been estimated by the British Medical Association that up to 70 percent of all domestic murders are alcohol-related. That isn't to say that everyone who gets drunk is an addict, but the relationship between alcoholism and violence is a stark one.
Then there is crime addiction itself. People who are addicted to the very feeling of breaking the law. This can be the most difficult addiction to treat, as crime is not simply the by-product of addiction, but the aim. Figuring out how to treat crime addicts continues to be a long-standing challenge for the authorities.
Changing the Approach to Addiction and Crime
Whilst the issue of addictions and crime can be an emotive one, it is clear that new methods are required to tackle a problem that is costing billions of pounds and perhaps thousands of lives. And whilst the authorities have often seemed hesitant to treat addicts rather than punish them, the most recent evidence suggests that treatment is the far more effective method.
In 2008, a study conducted by Manchester University's National Drug Evidence Centre found that addicts were 50 percent less likely to commit crime again after a course of treatment. Addicts who were simply jailed almost invariably took up crime again upon their release.
You might also like...