Physical Effects of Alcohol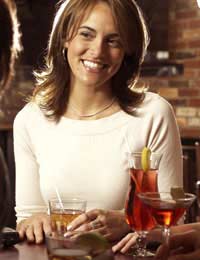 Alcohol affects the body in many ways and if taken in excessive or frequent quantities can be particularly harmful to our biological systems and our central nervous system.
Effects on Organs
Alcohol is absorbed into the bloodstream via the digestive tract. After being drunk it lays in the stomach where it can irritate the stomach's lining (gastritis), and can progress to a stomach ulcer that bleeds causing pain and is potentially life-threatening. Other effects on the digestive tract include excessive production of mucous and prevent correct function of the sphincter that allows passage to the intestines.
After it has been absorbed into the blood it is carried around the body passing through many structures on its travels.Excessive alcohol can seriously and sometimes irreparably impair the function of the liver, resulting in cirrhosis. The liver is one of the largest organs of the body and provides many functions that are important for everyday life. If a liver has cirrhosis, it consists mainly of scarred tissues and blood cannot flow through it effectively and it is prevented from doing the job it is supposed to do. Cirrhosis can cause abdominal pain, itching of the skin, gallstones, a build-up of toxins in the blood and brain and swelling of the extremities. It can progress to liver failure or liver cancers can develop. The result of a diseased liver can cause the skin and whites of the eyes to turn yellow, known as jaundice.
Inflammation of the pancreas is also a possibility of high alcohol intake and this is an exceedingly painful condition. The pancreas is a large gland that sits in the upper right-hand side of the abdomen; it is responsible for providing the enzymes that are needed to digest food. Long-term alcohol abuse can cause a sudden attack of pancreatitis which may also result in nausea, vomiting and greasy stools. In long-term alcohol abuse, the drinker may develop chronic pancreatitis and as the food stuffs consumed aren't broken down and fat is passed through with stools, significant weight loss is often a factor.
Effects on the Central Nervous System
During the initial period of being intoxicated by alcohol brain activity can be impaired or even reduced. Reactions become slower, speech becomes slurred, judgement is impaired and movements can be altered.
Some people have reported experiencing hallucinations, numb fingers and toes and impotence when excessive alcohol is taken.
Many drinkers (or those in withdrawal), experience a fine tremor of the hands, a change in balance ability and a deterioration of hearing or sight.
Long term effects of alcohol abuse can lead to anxiety and panic attacks, depression and even premature dementia. These are very difficult to diagnose and treat in some people as they are aware of the relationship between mental health issues and alcohol abuse and are often reluctant to seek medical help.
Along with the dangers of sustaining injuries or even death from an alcohol related accidents, all of the above mentioned illnesses and diseases can cause death. It is vital that people drink alcohol responsibly and do not exceed government recommendations; these guidelines are there to protect the well-being of the public.
You might also like...
I want to help my best friend with his dependency on alcohol - he is depressed - has started going to AA but I fear he isn't making the classes..... I can't drag him to the GP and my comments and conversations I feel sometimes make him worse...
Stephy
- 4-Apr-18 @ 5:55 PM