Addiction to Shopping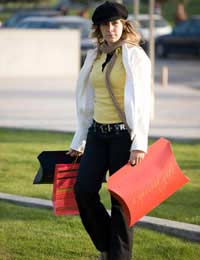 Many of us have heard the term 'Retail Therapy' and will have thought that this is the term given to someone who is spending money on frivolous items as a means of making themselves feel better about things. This is partly true but for the most part this so-called therapy is more of a problem than a cure and can lead to more severe problems arising.
Genuine Addiction
Many people might not choose to believe it but we can suffer from an addiction to shopping. This is something that a great number of individuals do suffer from and it can cause both they and their families not only emotional distress but a great deal of financial hardship as well.
This compulsive condition is designed to make the individual feel better about themselves and their lives whilst ignoring – or glossing over – the uncomfortable reality of their normal everyday existence. They might well be suffering from stress due to problems at work or may be suffering the break up of a relationship but whatever the reason the compulsion to spend money in order to feel happy and content is a strong one.
The condition is also unusual in that it is accompanied by an almost euphoric state prior to a spending spree at which the sufferer can – to a point – fantasise about what he or she will buy or indeed what they will spend their money on.These are commonplace emotions for this condition, which are mirrored by the opposite effects after the spending spree has occurred.
Often a sufferer will spend many hours after their spending spree considering the cost of the items they have purchased and will sink into a depressive state as the reality of how much money they have spent kicks in.
Shame remorse, guilt and despair are all commonplace emotions to be felt by a sufferer after the initial euphoria has worn off. This can be dangerous as the individual's mental state goes from one of high excitement to high anxiety in next to no time.
How This Addiction Effects Lives
Away from the physical and emotional symptoms produced by this problem there are also the financial and relationship problems that can unfold. Unless the sufferer is in a comfortable financial position then he or she will have to seriously consider how the money that has been spent will be paid back.
This feeling of financial despair often leads the sufferer to return items he or she has purchased in order to recoup the money spent but this can only lead to the process beginning again.
The effects on a sufferer's family can be many and varied with certainly a drain on finances being the most important effect. In addition tension within the family as well as arguments can arise.
If you are aware of someone within your family or a close friend who you think might be suffering from this addiction it is important to try and encourage them to seek medical and emotional help.
This problem, although one that is not as well publicised as addictions to drugs, alcohol or gambling, is still high on the list of addictions that can lead to emotional breakdown as well as the break up of relationships and families.
You might also like...
Hi, I came to realize that I have shopping addiction and it's getting out of control. I need help but I don't know where to start. I would appreciate any suggestions
Lulu
- 14-Jun-22 @ 6:44 AM
I am now at my whits end, my husband is spending money like it has gone out of fashion, and now i am homeworking, I take in the deliveries today, a parcel arrived for him more clothes .I have now decided to keep a log of it and pictures, its just all the time his spending, and we have other pressing things in the house to purchase.2 nights ago he was in the dark in the spare room unpacking some new trainers. our daughter caught him out , he said he brought them ages ago , but i dont believe him, the next day he said he brought them 2 years ago for when he was supposed to play cricket he has not played cricket since 2017 . and why not say this on the day he was unpacking, he has a shop addiction especially online. I tried to get counselling via work for us but all booked up. and bascially told me to go online and look. I am seriously giving him a wake up call by leaving him temporary but i dont think that would solve it..He really needs help . thanks in advance .
Lady J
- 22-Sep-21 @ 1:04 PM
Hi. I also have a spending online addiction and need help quick!! I have had various addictions through my life. Mostly alcohol and spending! When lockdown hit I started ordering stuff online and my days were spent waiting for the deliveries to arrive. These were bought on credit cards and on the tick etc. First it was a new tv and ps4 on Very and then it became anything I felt I needed, thought I needed or thought I might need in the future. This had got out of hard and I got a load to pay things off, then maxed my cards out again. I need serious help here. If someone knows of any FREE shopping addiction service, then please let me know before it's too late. Thanks for reading.
FPK
- 23-Oct-20 @ 2:54 PM
I buy things to make myself feel better, ie low esteem, anxiety and depression,I shopfor clothes that after a week I don't want, I've had hypnotherapy, which gave me a pressure point that I does work when I use it,but my will power is crap, I've now resorted to avoiding clothes shops completely, I've taken Ebay n shopping sites off my phone to help me stop, I've had this problem for years n wasted so much money on shopping, so I'm going to try not to spend money on useless and only buy items i really need, so it's back to square one with pressure point every time.
Jils
- 22-Jul-20 @ 8:19 AM
I have a shopping addiction, I buy stuff and sneak it in the house and put it in my wardrobe with the labels still on, I have lied to my family and wife over stuff that I have bought running up bills, this has been going on for quite sometime but I have chosen to ignore it. it hasbeen whilst on furlough that I have been ordering stuff some of which I don't really need and there has been 2/3 deliveries sometimes a day. my marriage is on line if i dont pull this around. I would like some advice.
peeps
- 13-Jul-20 @ 3:51 PM
Hi, I wonder if you can help? I am slightly worried about my bills and during my constant worrying, i spend money on materialistic things to feel better for that initial moment. This negative cycle causes me to incur further debt and feel overwhelmingly guilty. I am currently with a debt charity but i have incurred further debt against their advice. This over worrying has had a knock on effect with my eating habits too. I have become aware that i suppress negative feelings with food and spending money too, and would like to ease burdens upon myself. I also currently try to out-train my bad diet, by over exerting myself in the gym, subsequently becoming more susceptible to injuries
Joseph
- 27-Dec-19 @ 10:57 AM
don't know if this is the right site..i have an addiction it may sound silly but i just keep buy stationary supplies i cannot help it but am worried about it that i put bills on hold to get this supply of paper etc etc i suffer from depression very bad but don't talk about it to my long distance partner i feel sad all the time i just want to cry and i sometimes think what would life be like without me and the answer will be who will care and who cares i need help anyone
Kidda
- 16-Jul-14 @ 7:12 PM