Beating an Addiction to Chocolate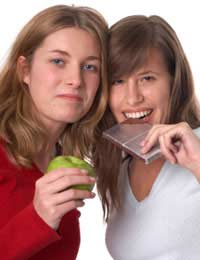 The subject of chocolate addiction is a topic that raises a smile to most people's lips and is often thought of as a harmless bit of fun that is really to be enjoyed. For confessed chocoholics however, this can be an expensive and dangerous addiction due to the affects excessive chocolate consumption can have on their health.
How Is Chocolate Addictive?
People can become addicted to chocolate in a number of ways. For some it may start as a love of the taste and texture of certain brands, for others it may be the sweetness and sugar rush it provides. There are legitimate grounds as to why and how people become addicted to chocolate.
It is now commonly believed that eating chocolate can cause an increase in the production of endorphins. These are chemicals that make us feel happy and are found naturally in our bodies, therefore if we eat chocolate we have an increase in these 'feel good' chemicals.
Some experts also believe that due to the chemicals contained in chocolate and their effects on the brain a cycle of 'the more you have, the more you want to have' begins, thus developing a physical dependency.
Beating Your Addiction to Chocolate
Most importantly is making the choice of wanting to give it up. Without an inner need and want, it will be very difficult for the addict to abstain from chocolate consumption.
Determination and willpower are essential for succeeding in your goal. Reading books, listening to specially created CD's or DVD's will help you build your determination.
Joining a support group will help you find out how previous addicts overcame their addiction; many of these can be found online and can be quite useful.
Hypnosis is another way managing your addiction. This will aim to increase your concentration, change behavioural patterns by making suggestions and increase motivation and determination.
There is increasing evidence of a link between depression and excessive chocolate consumption. If you feel you have undiagnosed depression, please discuss this with your GP and discover if you can seek treatment for this using other methods.Identify when cravings are most likely, what the initial feelings are leading up to a strong craving and develop alternative coping strategies.
Simple measures such as not buying any chocolate for other members of the household will help to take temptation out of the way, as will avoiding unnecessary trips to the local shop, petrol station or other chocolate retailers.
Avoid the confectionary aisles at the supermarket, or ask someone else to do the shopping for you whilst you are coping with the initial period of withdrawal.
Find more time for sex and exercise as these both increase endorphin production, and will help burn off the calories and body fat gained from eating too much chocolate.
Visit the dentist and treat yourself to a good whitening or polish, this will help deter you putting them at risk from the dangers of sweet confectionary.
Find alternatives and natural sweet produce, such as fruit, and eat this when a craving is beginning.
To overcome your addiction to chocolate, it is most likely that a combination of these techniques is used.
Being a chocoholic is not the end of the world, but overcoming the addiction will increase your confidence, improve your overall health and will probably carry a financial reward also.
You might also like...
I suffer from anxiety and mild depression. As a stay at home mum I find myself bored sometimes and truthfully stressed. My go to, is to have some chocolate because it tastes good and makes me feel happier. I have gained weight from my chocolate scoffing habits and I know I need to cut out the chocolates but I find myself struggling.
ChocZombie
- 19-Apr-21 @ 1:22 PM
I have been addicted to various substances for as long as I can remember,alcohol, cannabis, cocaine, ecstasy, heroin, amphetamine, benzodiazepines, subutex.....I attend a twelve step fellowship to help with this and am free a day at a time from all but the prescribed benzodiazepines and subutex. I am working with my gp to reduce these. However, my 1st addiction was sugar, and chocolate.I really want to stop eating chocolate as I know I am putting on weight due to this and that there's a high possibility that I will end up back out the doors of the fellowship and using alcohol/drugs again to control my weight. I am desperate. I dont know how to stop.... I try but somehow end up buying and eating the stuff again. Help!
A.M1166
- 27-Feb-20 @ 8:14 AM
I have really bad tremor attacks which make me confused and make my limbs go very weak..the only way I can stop this is to eat high sugar content foods untill it passes...blood tests have shown no health probs. at all! so has anyone any ideas please?....also it is best not to have that first piece of chocolate if you are like me as I cant stop untill I have eaten all of it that is at hand!
chocaholic
- 16-Jul-12 @ 4:50 PM