Sugar Addiction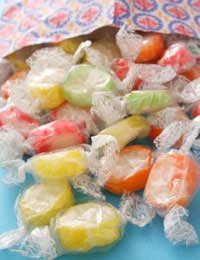 As sugar is a very legal and almost constantly used product many people are unaware that they are consuming such high quantities of the substance. It is present in breads, sauces, soups, in fact almost all modern pre-made and convenience foods. As we are all consuming these products on a regular basis, we would all probably experience some degree of withdrawal if we tried to totally remove it from our diet.
Sugars are present in nearly all foods, even those that are considered healthy such as milk and fruit; these are healthy sugars and our bodies can process these substances without damage; sugar addiction normally refers to refined white sugar that is added by us and manufacturers to products.
Sugar addiction can incorporate both physical and psychological dependence as the body's systems become used to receiving the sugar rushes and the mind becomes dependent on the instant pleasure experienced.
Signs and Symptoms of Sugar Addiction
As with all addictions, a person who has become addicted to sugar will allow items containing high levels of sugar to make up a large part of their diet, or will have to consume a sugary item frequently.When access to these items is denied or they are unable to consume them, low mood, irritability, frustration and panic can occur.
They will normally experience cravings accompanied by fine tremors, headaches and a pre-occupation of thoughts. When access to the sugar is permitted, they will experience an instant rush and feel very satisfied very quickly.If a person has made a conscious effort to remove sugar from their diet, symptoms of withdrawal can include headaches, changes in bowel habit, low mood and anxiety.
Consequences of Sugar Addiction
Although the mind may experience intense feelings of pleasure from sugar, the physiology of the anatomy can be significantly altered by long-term or excessive consumption of refined sugars.
High levels of sugar in the blood, or hyperglycemia, occurs, with the possibility of diabetes and pancreatic problems arising. Bowel diseases, including cancers, constipation and excessive wind are all commonly found in those addicted to sugar along with poor dental hygiene, arthritis and obesity, including the many diseases and illnesses that can accompany this.
Overcoming Sugar Addiction
If a person wants to make a serious effort in removing all refined sugar from their diet, they must be prepared to make some significant alterations in their normal life.
Many food items will have to be homemade, or bought from special shops (often at increased prices) in an effort to guarantee they are sugar free. These items include bread, soup, sauces, yogurts, ice-cream and drinks.
It is not necessary to remove natural sugars such as lactose or fructose from the diet as these are present in foods needed to maintain a healthy diet.
Eating a large healthy breakfast using unsweetened oats or wholemeal flour will help to keep blood sugar levels constant and keep the appetite sustained, thus reducing the need for snacks.
Learn to scrutinise all products for signs of sugar, manufacturers often masquerade sugar with alternative names such as syrup to disguise it.
Keep a diary of all foods consumed. Even if you think you have removed sugar from your diet, you may be surprised at how many common items are consumed without the presence of sugar being noticed.
Keep active and drink plenty of fluids, these will both help to regulate blood sugars and allow the body to heal itself from the damage excessive sugar consumption may have caused.
Sugar addiction is an increasingly common addiction and one that is not known or admitted by the public as we are generally unaware of how much we consume or its effects on the body.
Any efforts at lowering the amount of refined sugars in the diet will help to improve general health and encourage a healthy body later in life.
You might also like...
I want more information and support to help me give up sugar.
ljmet
- 16-May-18 @ 8:17 PM
Watched your video presentation on sugar addiction and the five foods to avoid, and decided I would like to join the Trimdown Club.However, I tried pressing the arrow and below it ( there was no "button") but could not connect to the relevant page to join.I tried contacting you via the website without success, so here I am, do you want me as a member of your Trimdown Club? If so wIll you please advise me as to how I can make the £29 payment and join?
Gemini
- 19-Mar-14 @ 3:11 AM