Substitute Medication to Overcome Addiction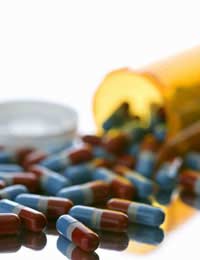 There are a number of prescription medications available to addicts of many substances and these will be available through the GP occasionally with the input of the Community Drugs Team. If the person prescribing is satisfied that the addict is definitely willing to give up their habit, an assessment of the persons needs and circumstances will be undertaken to determine the best course of treatment.
A willingness and determination from the addict wanting to give up their habit is vital in the success of any of the following products; they are not 'magic' cures and very strong willpower and support is needed in conjunction to this help.
Medications Available For Heroin/Opiates Addictions
Buprenorphine
This drug is used in the treatment of heroin and for those addicted to opiates such as pain killers. It can be taken every other day and its aim is to reduce cravings and help ease the symptoms of withdrawal.
It can be taken long-term and be reduced when the addict is ready to take that step and is often recommended to those who have suffered unpleasant effects whilst being prescribed methadone.
Methadone
Methadone is the usual treatment of choice for addicts of opioid drugs including heroin and morphine.It has the same chemical effects on the brain, though does not carry the same 'high'. It also allows the person to change their behaviours and social networks whilst keeping withdrawal under control.
It is safe to use long-term and is best reduced very slowly to avoid relapse.Methadone causes no serious side-effects, is legal, must be prescribed and will be provided following assessment from your GP or Community Drugs team (or equivalent).
Naltrexone
This drug is used for the treatment of heroin, opiate and alcohol addictions. It works by reducing the pleasant effects experienced from the use of these substances, helping to make their use pointless to some degree. It helps addicts realise that their money is being wasted as no 'high' will be experienced. It can also help reduce cravings and aid those who wish to abstain altogether.
Medications Available For Cocaine Addiction
Gabapentin/Neurontin
Working by stabilising the electrical activity in the brain, these drugs are usually given in the treatment of epilepsy. They have now been proved useful in the battle against cocaine addiction. This drug helps to ease cravings therefore helping to reduce the symptoms of withdrawal but it can have a sedative effect also.
Baclofen
This is indicated for those who have a cocaine addiction and works by altering the neurological pathways in the brain; it is especially prescribed for those who have a very heavy addiction to cocaine.It is normally given to those who have suffered an injury involving their central nervous system, or to those affected by conditions such as multiple sclerosis.
Side-effects of this medication include nausea and drowsiness; it is also important that this medication is not suddenly withdrawn or declined; discussion must take place with the prescribing doctor.
Disulfiram
Disulfiram is recommended to those who have an addiction to either alcohol or cocaine. Its aim is to increase unpleasant effects of alcohol or cocaine and causes very nasty side-effects if taken in conjunction with either substance.
Medications Available For Alcoholism
Topiramate
This is offered to alcoholics as it reduces cravings and helps to stabilise moods. It is usually given as an anti-convulsant and should not be taken with alcohol as side-effects will be very unpleasant.
Medications Available For Nicotine Addiction
Nicotine Replacement Therapy
A very widely used method for controlling nicotine addictions, almost all of these products can be purchased without prescription. They come in a variety of forms to suit the user and are aimed at reducing cravings and helping to wean the addict off tobacco. The products can be bought in different strengths so each person can reduce their dosage when ready.Bupropion/Zyban.
Available with prescription this drug helps to control urges and cravings. It is normally given as an anti-depressant though the public are now more familiar with its use in nicotine cessation.
There are many products available to addicts and most are available by prescription and after thorough discussion and assessment by your doctor.
You might also like...