Uncommon Drug Addictions and How to Stop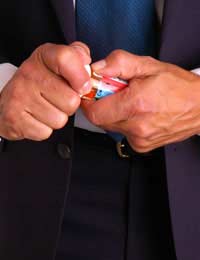 Drug addictions as a whole are a common class of addictions. They garner an enormous amount of media attention, research funding and treatment centres and therapy types to treat those who suffer from the effects. The number of different drugs that have potential for abuse, however, is enormous.
While illegal drug use and controlled prescription medications form a large percentage of drug addictions, other drug addictions are still a problem. In particular, some uncommon but still growing drug addictions to over-the-counter drugs are a concern.
Addiction to Antidepressants
The term addiction is a complicated one in the context of antidepressants. While antidepressants are known in some instances to cause a withdrawal known as discontinuation syndrome, experts do not consider this the same as an addiction. Users do not feel a compulsion to use the drugs in the way a person is driven to use other substances, for instance.
There is still some evidence, however, to suggest that infrequently, antidepressants such as SSRIs can lead to dependence and addiction. The suggestion that they are often overprescribed for even minor psychiatric complaints is thought to put more people at risk of abusing the drugs. While it continues to be debated, those who believe they are addicted to SSRIs should speak to their doctor about their concern while ensuring they have access to therapy.
Addiction to Cough Syrup
Cough syrup is another uncommon addiction but a potentially deadly one. Containing the ingredient dextromethorphan, it purportedly leaves users feeling high and can induce hallucinations. Users will take cough syrup in much higher doses than those prescribed therapeutically for coughs and sore throats. Since such cough syrups can also contain other active ingredients, the risks for a user are potentially significant ones.
Emergency room visits are more likely to occur when a user takes cough syrup and mixes it with alcohol. Yet another frightening possibility is if the user drives. Cough syrups alone come with the recommendation to avoid operating any vehicle and, of course, alcohol can significantly compound the effect.
Cough syrup use tends to be more prevalent in young people and less so in adults. It is important for parents to be aware of the medications they keep in their medicine cabinet. Locking the cabinet is recommended and if cough syrup addiction is suspected in a teenager, it is best to approach the subject in a non-accusing way.
With long-term use, a person can become dependent and suffer withdrawal symptoms when stopping the medication. Treatment must be under the supervision of a doctor and as with most other addictions, should involve counselling or psychotherapy to address the psychological roots of the addiction.
Overcoming Addictions
While uncommon addictions can make it harder to be diagnosed and receive treatment, it is critical that they are addressed for sufferers. In these instances, there can be more pressure on a sufferer to initiate treatment because these addictions are not yet well-known enough that friends and family can detect the warning signs.
As with any addiction though, they can have devastating physical and emotional effects on users. Long-term complications are a reality and an overdose can also occur. If you think you are suffering from one of these less common addictions, talk to your doctor about getting treatment.
You might also like...