Stopping Eating Disorders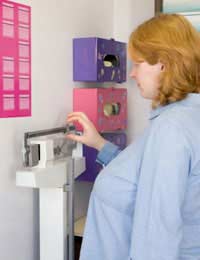 Eating disorders occur when the individual has an unhealthy relationship to food and diet and allow these relationships to become overly prominent in their lives. Eating disorders can occur at any time to any person and are often related to other traumatic events that have not been addressed.
Disorders include over-eating anorexia nervosa, bulimia nervosa and compulsive eating disorder.
Over-Eating: Sufferers experience a total lack of control over eating and binge excessively on food until they can eat no more. They binge even when not hungry and it is most often done in secret. Over-eaters can sometimes eat all day long with constant 'grazing' on snacks between meals. Over-eating carries a risk of obesity, development of personality disorders, substance abuse and depression.
Anorexia Nervosa: Intentional starvation and food deprivation, distorted body image and a fear of ingesting calories.
Bulimia Nervosa: Episodes of total lack of control over eating involving binge eating followed by purging the body of the food usually by vomiting and excessive use of laxatives. Suffers of bulimia nervosa are at risk of organ failure, poor dental hygiene and depression.
Compulsive Eating: Compulsive Eaters often crave certain food types and binge on this to satisfy their craving. Binges are usually on sugary foods that help the sufferer experience a 'high' followed by a low that needs lifting by ingesting more sugar. Again, compulsive eaters can eat large volumes of food, even when not hungry.
How Do Eating Disorders Develop?
Eating disorders are very complex and experts continue to research and understand the illnesses.It is believed the main issues surrounding eating disorders involve control, concealment of emotions and as a coping mechanism to help overcome another traumatic event.
Sufferers use their disorder as a way of regaining control over aspects of their life that they otherwise feel they have no management of. The emotional, psychological and physical outcomes of eating disorders can be extremely dangerous and even fatal.
How to Overcome the Disorder
Sufferers should be addressed in a non-confrontational and supportive manner; help and support should be offered in an informative and understanding way.
Sufferers can be treated as an out-patient if their life is not in imminent danger; this can be arranged by the GP or practice nurse.Therapy often includes behavioural therapy from a qualified therapist combined with counseling and family therapy.Dieticians and nutritionalists can be used to help re-establish healthy attitudes towards food and diet, and both can help find a suitable diet plan that is acceptable to the sufferer and the family.
Initially the advice and help may seem too harsh for the sufferer, but the plan must be followed in order to achieve the desired results.If an in-patient programme is advised, the sufferer will find they are offered all of these therapies in an environment staffed by professionals who are very familiar with all issues surrounding the disorders along with treatments for re-hydration, re-balancing of the body's metabolism and chemicals and intensive treatments from psychiatrists and/or psychotherapists.Treatment centres are often specialized to treat eating-disorders meaning all therapies are aimed for this problem and patients can discuss their fears and anxieties in an understanding environment.
Eating disorders are very serious and are increasingly developing at younger ages and across both sexes. They can be as upsetting for the family and friends as they are dangerous for the sufferer. Help and advice should be sought as soon as an eating disorder is suspected. If there is any uncertainty about what to do, speak to your GP or phone a specialist help line for advice on how to take the next step.
You might also like...