How Common Are Addictions in Young People?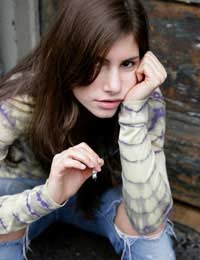 An addiction can develop at any time during life as a result of many issues. Addictions do not just occur with drugs and alcohol but in fact can arise from many areas some seemingly innocent activities that are enjoyed by many people.
There does however seem to be an increasing number of young people reporting addictions and seeking help to overcome these problems.The most common addictions seen in young people include but is not limited to smoking, alcohol, solvents, cannabis and now even cocaine and heroin.
Why Are Younger People At Risk?
There are many reasons why young people seem to be at risk of developing an addiction and becoming 'addicts'.For some it may be that they have a genetic disposition to an addiction, for others it may be that they have grown-up in a household where substances can be accessed easily or that they have witnessed those around using substances or partaking in activities frequently.
For some and is most often the case in modern times, the pressure from peers causes them to try substances in order to 'fit in'. All too often this pressure begins with young children sometimes daring each other or trying to prove that they are more mature than their counterparts. These children often don't know about or understand addiction and most certainly do not start thinking that they will become addicted but a dependence can occur very easily.
Often these addictions begin with occasional smoking or drinking alcohol which frequently leads to trying other substances such as solvents or cannabis.Using any of these substances can escalate very quickly into habitual use and trying stronger substances to reach the desired effect.
Nicotine use is something that is a big problem with young people and even children. It is safe to suggest that most smokers began the habit in their teenage years and research has shown that if someone hasn't begun smoking during this time, chances are they won't in the future.
Can It Be Cured?
When an addiction has been overcome it may be easy to suggest that someone has been 'cured' but in fact the person will still have the ability to become addicted again, possibly to the same substance or sometimes to something else.
To say that they have been cured is somewhat misleading, so it is perhaps better to say that they have learned how to live without the substance or otherwise in their life.Techniques learned in therapies can be very useful throughout life and can be called upon when the person is feeling like they may be susceptible to succumbing to an addiction again.
What Can We Do About The Problem?
The biggest thing we as adults can do to help prevent our children becoming addicted to substances is to educate them. Simply saying to them that they shouldn't drink or smoke is not enough. They need educating about the effects of smoking and drinking in a way that seriously warns them of the damage they are doing to themselves and how difficult it is to achieve a successful recovery from the addiction. It is also important to show them that they can discuss their problems with you without feeling like they are 'in trouble'. It is also important that they know where to go for further help. There are many agencies such as FRANK that have been specifically created to help young people and can be extremely beneficial to their development and education, answering questions that you may not be able to.
Education and awareness are vital in protecting our children from the dangers of addiction. Communication is also very important and being able to talk openly about fears and anxieties will help teenagers voice their concerns and opinions without feeling as if they are not being understood or listened to.
You might also like...